Welcome to the Wild, Wild West
Have you ever wondered what it must have been like to stand in the street face to face with one of the fastest guns ever to live, like John Wesley Harden, or maybe even "Wild Bill" Hickok. Well here's your chance, The Association of Arizona Gunslingers is a Cowboy Fast Draw Association affiliated club. Cowboy Fast Draw is one of the "fastest" growing shooting sports today, and the closest thing that you can get to a real gunfight.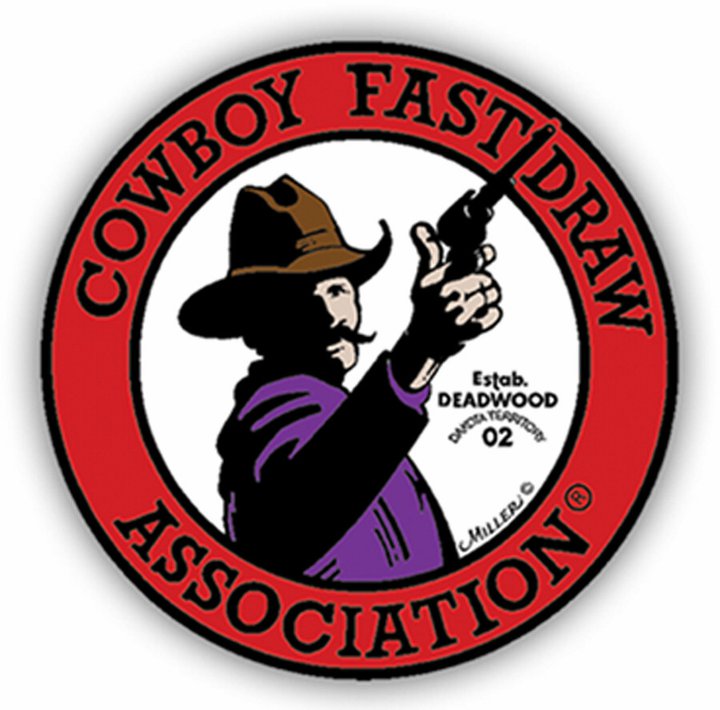 Tombstone
March 2019
Bracket A
1st-Shady Mike 2nd-Everett Hitch
3rd-Mongo
Bracket B
1st-Quigley 2nd-The Draw 3rd- High Strung
Texas State Championship
March 2019
Men Top 10
7th - Everett Hitch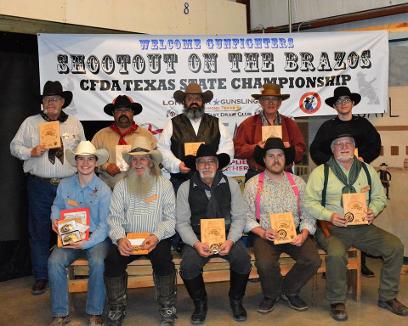 Old Timers Category
1st - Everett Hitch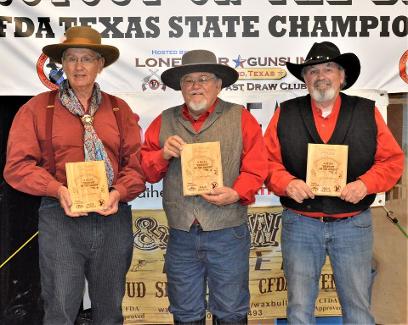 Gunfighter Bracket
2nd - Everett Hitch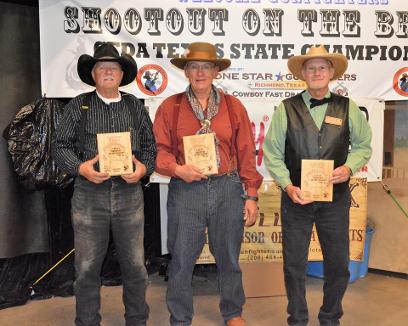 World Championship
October 2018
Range War Champions
Shady Mountain Team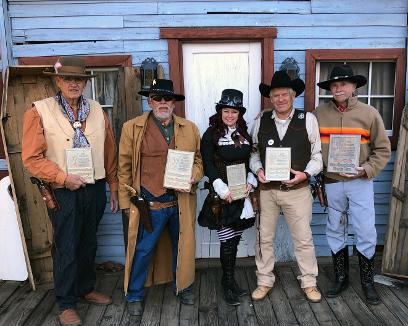 2018 Ladies Top Gun

1st Place - Holli Day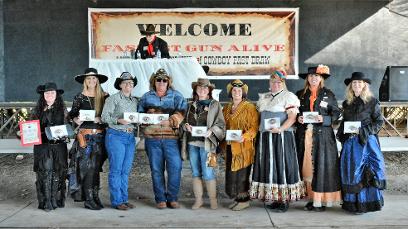 2018 Mens Top Gun

2nd Place - Old West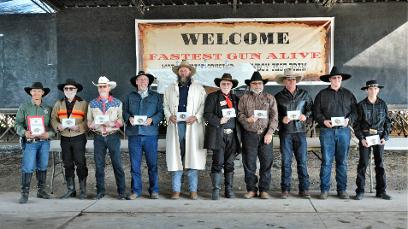 2018 Youth World Champions

4th-Prickly Pear 5th-Coyote Kid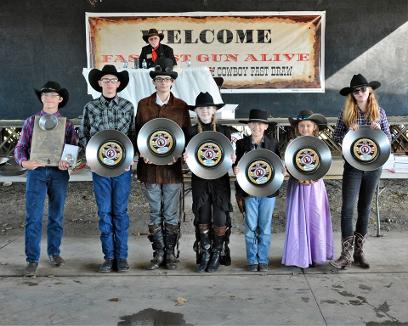 National Championship June 2018
Ladies Top 20

2nd-Holli Day 3rd-Yowee 7th-Troublemaker

Southern Territorial

May 2018

Ladies Top 10

1st Holli Day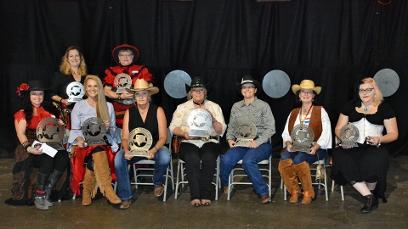 Men Top 15

4th-Old West 12th-High Strung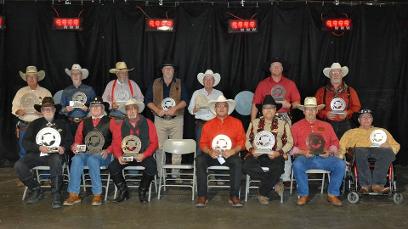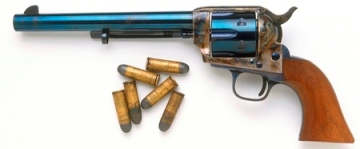 We use real single action .45 caliber six shooters with a minimum barrel length of 4.5 inches just like the ones that they did back then; only we shoot a wax bullet propelled by a 209 shotgun primer. Our holsters are pre-1900's style, no metal liners. All you have to do is wait for the light, then draw, cock, aim, fire and hit that big'ol 24 inch round target that only stands 21 feet away, before your opponent does.
The Cowboy Fast Draw motto is Safety first, Fun second and Competition third. We are dedicated to creating a safe, fun and family friendly environment, so come out and experience life "The Cowboy Way". We look forward to seeing you at our next event. For more information please contact us or visit the Cowboy Fast Draw Association's official website at www.cowboyfastdraw.com and Join the CFDA today.
Winter Range
February 2019
Bracket A
1st-Cowboy Up 2nd-Broken Spoke
3rd-Whiskey
Bracket B
1st-Bandana Kid 2nd-Smokin Hank
3rd-The Draw
Bracket C
1st-Grey Wanderer 2nd-Dusty Jam 3rd-Desert Gator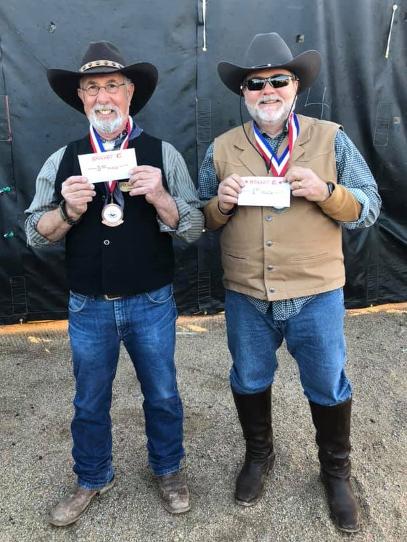 Bracket D
1st-The Stud 2nd-dogboy
3rd-Big Foot
Bracket E
1st-Eagle Eye 2nd-Viper
3rd-Lone Rider
Bracket Shootist
1st-Quigley 2nd-BA
3rd-Dirty Dan
Pioneer Bracket Shoot Oct 2018

Bracket A

1st-The Draw 2nd-Holli Day 3rd-Troublemaker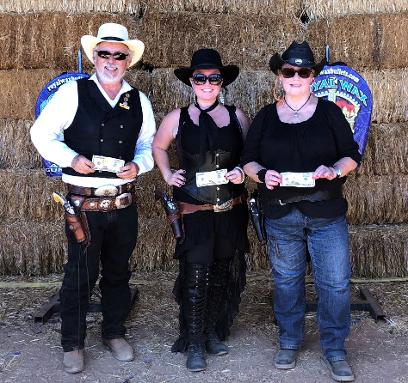 Bracket B

1st-Shady Mike 2nd-Grey Wanderer 3rd-Wild Onion Willie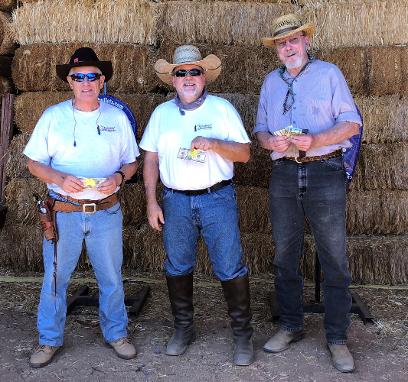 Bracket C

1st-Boneyard Ranger 2nd-Scattergun

3rd-Arizona Coy Dog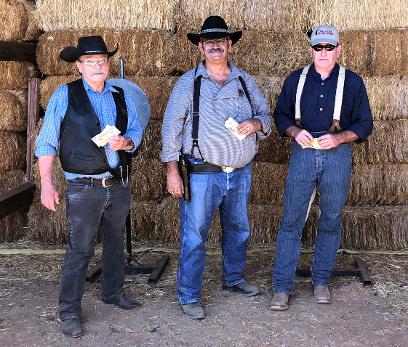 Special Announcements & Messages:
Go to our BANNER above click on Store and start shopping. Amazon,Zazzle and other popular stores are available for your shopping pleasure.



Reaction Timer
It's back! Test your reaction time by clicking here. Reaction Timer