If you are interested in listing a new or used item for sale or trade, email noahcance@me.com with pictures, details and your contact information.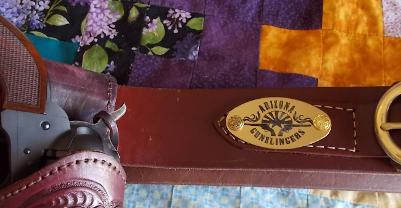 "The Association of Arizona Gunslingers" belt badge! Made of solid 1/16 inch brass withs dimensions of 2 1/2 inches long by 1 3/8 inches wide this polished and laquered badge is engraved with the "Arizona Gunslinger" logo then put througth an oxidation process to blacken the freshly engraved logo. Holes are drill at each end to accomodate two floral headed Chicago screws, included, to hold this beauty to your favorite gun belt. Price is only $8.00 with $2.00 S/H
Note: With each purchase $4.00 will be donated to the CFDA "Shoot for the Stars" scholarship program in the name of the AZ Gunslingers!
.
Disclaimer: The Association of Arizona Gunslingers or any persons associated with the creation and/or maintenance of this website do not accept any form of responsibility concerning the items posted for sale or trade. The responsibility to ensure that the seller or buyer of any and all items on this site do not violate state or federal law is solely the responsibility of any and all parties directly involved in the immediate transaction. The website creators and anyone involved in its' maintenance, will never post an item for sale or trade if he or she has direct knowledge that anyone involved in said attempted transaction is in violation of state or federal laws. If this knowledge comes to fruition any time after the posting, the item in question will be immediately removed from www.azgunslingers.com